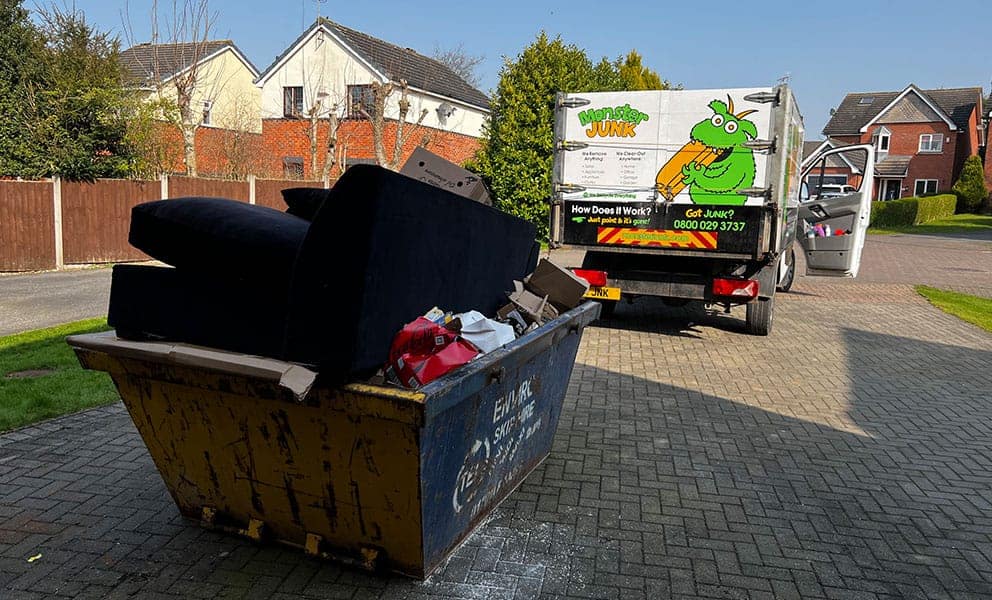 Man & Van vs Skip Hire - Understanding the Difference
Is it cheaper to hire a skip or a man with a van? What service is better and why?
Are you clearing your garden or having some work done at home? If so, chances are that you'll have too much rubbish to fit in your wheelie bins. There is a simple solution: get a junk clearance service to take it all away without lifting a finger.
In this post, we compare the two main options – a man and van versus skip hire…
Skip hire vs man & van – 3 differences
Before we start looking at the main differences between the two services, it's important to clarify that both of them are valid options. Basically, it all depends on your requirements.
If you only want to get rid of some old furniture, hiring a skip will be a waste of your money. But if you're working on a prolonged project, a skip might be your best option.
Without further ado, let's dig deeper into the main differences between both services.
1. Space
More often than not, your skip hire company will place your skip on your drive – blocking it for a couple of weeks. If you've got plenty of available space, this shouldn't necessarily be a problem. But if space is at a premium, you might want to look into other options – like a man & van service that removes your clutter immediately.
It's also worth noting that properties without enough space will need a permit to place their skip on a public road, which adds to the cost of that option.
2. Environmental compliance
Unfortunately, some people see skips as an open invitation to dump any sort of junk they want to get rid of. If this happens to you, you would be liable to pay any extra costs, as you are responsible for the waste that is in your skip. So, if you hire a skip, make sure that there are no batteries, mattresses, fridges, car tyres, gas bottles, fluorescent tubes, animal waste or chemicals of any kind – and try to keep an eye on any neighbours dumping their waste!
If you need to dispose of any of these yourself, call a man & van service that's accredited by the UK's Environment Agency. An accredited man & van company will always ensure that almost 100% of your waste is recycled or reused. Even better, they will supply you with a duty of care waste transfer note so you can prove that your waste has been disposed of safely.
3. Convenience
Above all else, it comes down to convenience. While a skip is easier than multiple tip runs, it still requires you to do a lot of the lifting and shifting yourself. Not to mention that any large items of furniture will fill your skip in an instant.
On the other hand, a man and van will shift anything and everything required without you needing to lift a finger. Their van will offer ample space for all your clutter on the agreed date – so there's no delay to your clear-out or renovations.
A clean home is a happy home
Looking for someone to take away all your unwanted clutter? Then look no further than Monster Junk – your local, Environment Agency-accredited waste removal company. As waste experts, we've got a wide range of clearance and removal services – from man & van to skip hire and skip bags.
Ready to get a price? Use our online quoting system. Want to know more? Just contact us or call us on 01477 531549 to talk about your requirements.
Need help with your rubbish?
View More Posts